Captain Dan

Dan Bloom, of High Ty'd Charters, decided to give up the cold water diving of Michigan and venture down to Pensacola. From his Open Water Training dives (1987) in Gull Lake, Michigan, Dan has enjoyed the underwater world in many places. Heather Bloom (wife) and Dan have been involved in the dive business since 1995 owning West Michigan Dive Center for 12 years and changing the business into Dive and Travel Adventures. They enjoyed diving the Great Lakes: Lake Michigan, Lake Superior, Lake Huron, Lake Ontario. Even though the diving is cold, the shipwrecks are amazing. A few favorite locations are Whitefish Point (Lake Superior), Mackinaw Bridge, Tobermory, CA (Lake Huron). Captain Dan operated a Stamas 6-pack charter boat in Lake Michigan, Divers Dream.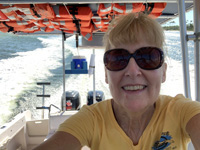 When Captain Dan is not offering charters in the Pensacola area, he may be joining Heather on one of the many dive trips they offer through Dive and Travel Adventures. Through the years they have traveled to many wonderful locations: Cozumel, Bonaire, Cayman Islands, and many more Caribbean Islands. Heather and Dan enjoy diving in the Pacific also: Indonesia, Philippines, Papua New Guinea, Great Barrier Reef, Truk, Palau, Yap. Check out the website at diveandtraveladventures.com and join them on their travels.
Charter Boat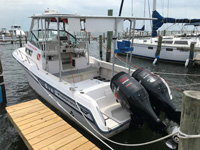 High Ty'd is a 26 ft Grady White Sailfish, 1995. Twin Suzuki DF250 Outboards provide the power to quickly transport up to 6 divers and crew to the divesite. A canopy covers the stern of the boat to provide shade from the sun (but sunscreen is recommended). There is plenty of room for the dive equipment and passengers. We use redundant electronic systems (GPS) to take us to the dive sites. VHF radio, oxygen and first aid kit, life vests and required Coast Guard equipment are on board. A divemaster/deckhand is provided. If you like to rinse off the salt water after your dives, use our fresh water shower. Plenty of drinking water is provided along with sports drinks and snacks. And there is room to bring your own snacks and drinks. If you would like to change out of your wet dive clothes after the dives, use our dry cabin with areas for dry storage.